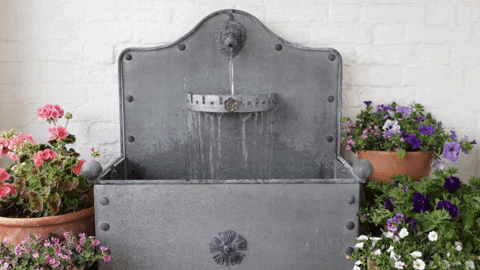 Our Water Feature is designed for both indoor or outdoor use, perfect for a paved terrace, conservatory, or orangery. Contains everything needed to add an attractive and calming focal point for your home.
Water trickles from a traditional lion's head top spout, onto a decorative ledge, before making its way into the bottom trough.
Product details
---
Made of thick galvanised steel with a 1000 litre an hour submersible pump which is adjustable for flow rate to achieve the desired effect.
All wiring and pipe work is carefully concealed by a back panel.
It is decorated with our signature balls, Tudor roses and coach bolts and finished to give it an aged patina.
There is a drainage point set on the right side near the base.
It merely needs filling to around half full with tap water to get the best effect and plugged into a suitable 13amp supply. Designed to be set against a wall on a hard surface.
Fully tested for operation and leaks prior to despatch. Pump has 12 months warranty.
Showing the single result